Kährs Luxury Vinyl Flooring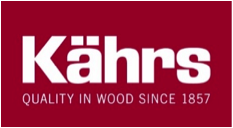 Kährs is one of the oldest and most innovative producers of engineered wood in the world. Versatile Flooring supplies and fits vinyl flooring products from Kährs. We have a wide selection of flooring samples from Kährs available to view in our showroom and the range of modern, high-quality floors for all types of spaces is vast. These floors are durable and can certainly stand up to the rigours of high traffic, busy areas!
Luxury tiles from Kährs combine the beautiful and natural appearance of wood and stone with all the benefits regarding resilience and maintenance of modern flooring technology.
The flooring designs from Kährs reflect the strong Swedish design heritage are the heart of the company, characterised by a timeless, yet contemporary, elegance. This is Scandi design at its best.
The company takes its commitments to the environment seriously and is a leading manufacturer of 'green' flooring, through its use of wood and supporting reforestation; choosing phthalate-free materials for their vinyl floors; and choosing environmentally conscious production. You can choose a Kährs floor safe in the knowledge that your flooring has been sustainably manufactured and treated throughout the process.