A laminate floor is an affordable solution for your home. It is essentially a multi-layer synthetic floor, finished with a photographic layer.
The products have developed over time and the photographic finishes have become realistic in their wood imitations.
Top brands have revolutionised laminate products with innovations such as Quick-Step's HydroSeal technology. The water-repellent coating of this flooring means that laminate can be used in bathrooms, kitchens etc and offers floors truly resistant to water.
We supply and fit two leading brands of laminate flooring: Finsa and Quick-Step.

Finsa is one of the largest MDF and chipboard manufacturers in Europe and has been operating in the UK for over 25 years. It is one of the very few furniture and flooring manufacturers who manage the entire manufacturing process: from managing its own sustainably grown forests from which its wood derives! Finsa was established in Spain in 1931.
We became proud partners with Finsa in early 2020 and supply and fit the Original laminate range. Samples can be seen in store.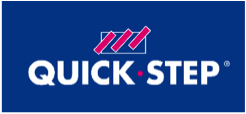 Quick-Step are a brand that loves to react to current/emerging trends in architecture, fashion and design and produce inspiring new floors that breathe naturalness and authenticity. Smart innovations, such as Scratch Guard & HydroSeal technology, make sure that Quick-Step laminate floors offer excellent protection against scratches, stains and even surface moisture.
Quick-Step laminate offers a wide choice of plank sizes, various types of wood design and a vast array of colours and textures to suit any home.